Back to Blog
NIF
Moving to Portugal from the US: Complete Guide
Updated: September 11, 2023 | Carola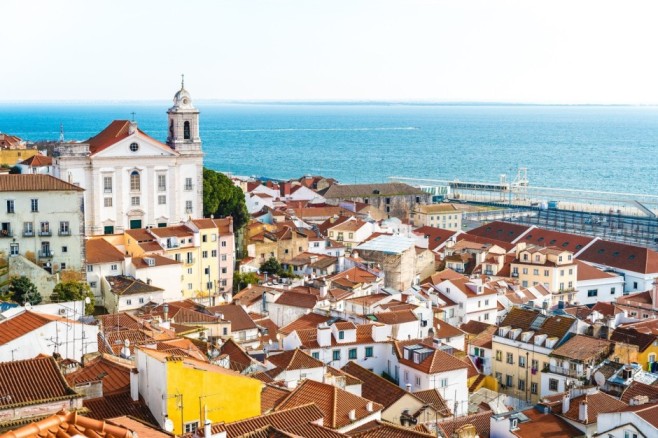 Portugal has become a popular relocation destination for many people from the USA, and it's not difficult to understand why. Portugal, Europe's most western country, has a lot to offer.  Whether it's an excellent quality of life, safety and a low crime rate, beautiful weather, and countless other facilities, here your dream of living in Europe can become a reality.
Your Guide to Moving to Portugal
In this ultimate guide, we will provide you an overview of everything you need to know about moving to Portugal from the USA, from the legal requirements when moving your life across the pond to valuable hints and tips for settling into your new home in Portugal.
We'll also discuss a variety of visa options, such as the Portugal Golden Visa, the Passive Income Visa as well as other residency visas, how to get your residence permit and eventually, your Portuguese passport.
Moving to Portugal From the USA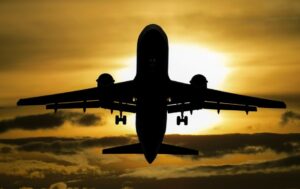 When you're not just moving countries but also continents, this may seem like a huge undertaking. However, with the right help and guidance, and some planning, the process can be straightforward. Below we'll tell you all you need to know about customs, the best way to send your goods and possessions, whether to consider storage as well as safe transport for your pets, and information on the required vaccinations.
Customs
When you have decided to relocate to Portugal from the USA, it's important to be aware of the customs regulations governing the transportation and shipping of your belongings across the Atlantic. Your move to Portugal also means you're moving to the European Union and the Portuguese government and every Portuguese citizen is bound by the laws and regulations of the EU.
To obtain a Luggage Certificate (Certificado de Bagagem) before your move, you'll need to visit your nearest Portuguese Consulate and provide a detailed list of all the items and household goods you intend to bring. Unless you require specific medication, you should be able to source all your necessary supplies within Portugal or, alternatively, import them once you've settled in.
Shipping and flying goods
If you're moving your household goods and personal belongings to Portugal, you have a few options available to you. The most cost-effective method is to ship your items by sea, although this is also the slowest option, with a delivery time of approximately one to three months.
On the other hand, shipping by air is the quickest but also the most expensive option, with a delivery time of around one week. Ultimately, you need to decide what works best for you and how urgently you need your belongings with you.
Below are shipping costs by sea for a 20 ft container:
*The above costs are via Sea Rates.
If you have less bulky and heavy goods or want to send clothes and items you need more urgently, shipping them via airfreight may be better. The costs below are for a single one cubic meter, 250 kg container:
Please note that the above prices are subject to change, and it's always worth contacting sea freight and air freight companies directly and getting a quote tailored to your possessions and needs.
Storage
If you need storage, this requires some forward planning. Portugal hasn't got a lot of self-storage facilities, so make sure you enquire about this in advance to know whether this option is available to you in the area you will live in.
Pets
If you're relocating with pets from America to Portugal, it's important to note that Portugal is under European Union (EU) regulations when it comes to bringing pets into the country. We strongly suggest you are familiar with the process before you embark on a new life with your furry companions.
In summary, you can bring up to five animals to Portugal, although they must be pets and not for commercial purposes. This depends on whether you are coming from within or outside the EU. If you're coming from the US or other non-EU countries, you are only allowed to bring in dogs and cats.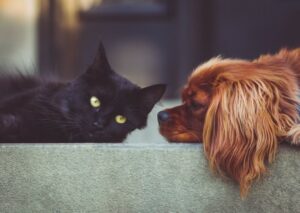 Before the move, ensure your pets are microchipped or have a clearly visible tattoo for identification purposes. They also need to be vaccinated against rabies, and the injection needs to be given at least 21 days before relocation. Some animals, especially dog breeds, are considered dangerous. You will have to sign extra documentation, get a permit, and have a local vet examine them before you have permanent permission to keep them in the country.
Vaccinations
Most people will already have routine vaccinations, which include measles-mumps-rubella, diphtheria-tetanus-pertussis, varicella (chickenpox), and polio. Also recommended is the annual flu vaccination. Although there are no special vaccination requirements when moving to Portugal or any European country, it's best to visit your local doctor to ensure there are no surprises when you get to your new destination.
How to Move to Portugal From the USA
The amount of paperwork and unknown bureaucracy may seem daunting when starting the relocation process, but expert help is always available. The first step, before you move to Portugal, will be to determine which Portuguese visa or immigration option is best for you and take it from there. Below we discuss the three most common routes to living in Portugal as an American citizen.
The visa process
As an American coming to Portugal, you won't need a visa. With your American passport, you can stay for up to 90 days for leisure or business purposes and are regarded as a tourist. If you want to stay longer, you will need to get the appropriate residence permit and a residency visa.
Through the Portuguese government, you can get a variety of visas, including residence, work, and family reunification visas. The Golden Visa Program has been one of the most sought-after in recent years. Once you have lived in Portugal with a valid residence permit for five years, you can apply for permanent residency or even Portuguese citizenship.
Portugal Golden Visa
The Portugal Golden Visa has been popular since its implementation in 2012. This residency by investment scheme allows successful applicants to stay in the country for up to five years if they make one of the following investments:
Residential real estate investment in a designated interior area of €500,000 or  €350,000 if investing in a rehabilitation project
Commercial real estate investment anywhere in the country of €500,000 or €350,000 if investing in a rehabilitation project
Investment funds (from €500,000)
An investment of €250,000 in support of the arts or reconstruction of national heritage
A contribution to scientific research (from €500,000)
After five years, Golden Visa participants can then apply for citizenship to live permanently in this beautiful European country.
It is worth noting, however, that the Portuguese government has recently announced that the Portugal Golden Visa is coming to an end, so if you think this option may be right for you, we'd recommend you apply while you still can.
Portugal's D7 Visa
Portugal's D7 Visa is a passive income visa that allows people to live in the country if they can prove that they have at least €760 ($808) per month coming from a source of income such as a pension. It's very popular with Americans who are looking to move to and retire in Portugal.
When you apply, you will need to submit documents that support your financial independence. For further information, contact us, and we will talk you through this option.
Portugal's Digital Nomad Visa
In October 2022, Portugal introduced its Digital Nomad Visa, which enables remote workers to apply if they can prove that their monthly income is at least €2,800 ($3,007) per month. Those who qualify can live in Portugal for up to one year, enjoying everything the country has to offer.
For further information, read our article about Working Remotely in Portugal.
European citizenship through heritage
You may be able to apply for EU citizenship and bypass a lot of bureaucracy if your parents, grandparents, or great-grandparents are from an EU country. The countries with the most favorable routes for citizenship by descent within the EU are Germany, Ireland, Italy, Poland, Portugal, Latvia, and Lithuania.
If you meet the requirements under Portuguese nationality law and have been living in the country for five years, you'll be able to apply for Portuguese citizenship. What's more, you can also apply for permanent residency.
Being an EU citizen automatically gives you the right to live, work, and study in any EU country, as well as having access to many other benefits.
Required documents
When you apply to any visa program, you will have to complete a visa application form which you then submit to your nearest Portuguese Embassy or your local Portuguese consulate in the US. If you're applying for a Schengen Area visa, you will have to download the Portuguese visa application form. In addition, you'll also need the following:
A valid passport and copies of previous visas
Two passport-sized, recent photos
Depending on your nationality, a copy of your return ticket reservation
Travel insurance that covers the Schengen Area
Flight dates and times
Accommodation plans for the duration of your stay
Proof of sufficient funds for the duration of your stay
Proof of marital status
Proof of economic status
Extra documents may be required, depending on what you will be doing in Portugal, e.g., students will need proof of enrollment in a Portuguese university.
Becoming a permanent resident or a citizen in Portugal
Once you have obtained temporary residence in Portugal and have renewed it for a period of five years, you become eligible to apply for permanent residence or Portuguese citizenship.
To obtain Portuguese permanent residence, you will need to pay a fee of $240 and provide the following documents to the Immigration and Border Service (Serviço de Estrangeiros e Fronteiras, SEF):
A valid and up to date passport
A completed standard application form
Two recent identical colored photographs with a blank background
Valid temporary residence permit
Evidence of sufficient financial means
Evidence of suitable accommodation
SEF's permission to check your criminal record in Portugal
Proof of basic knowledge of the Portuguese language, which can be demonstrated in various ways:
A certificate from an officially recognized teaching institution
Completion of language studies from a teaching institution
Completion of elementary Portuguese studies from the Institute for Employment and Professional Training (IEFP)
A certificate of education that demonstrates essential Portuguese skills such as Teaching Portuguese as a Foreign Language (CAPLE), recognized by the Ministry of Education and Science.
Benefits of permanent residence in Portugal
As a permanent resident of Portugal, you enjoy many benefits and advantages that life in the EU offers. US citizens who become permanent residents in Portugal have access to excellent and affordable healthcare, education, and social security, which all adhere to European standards.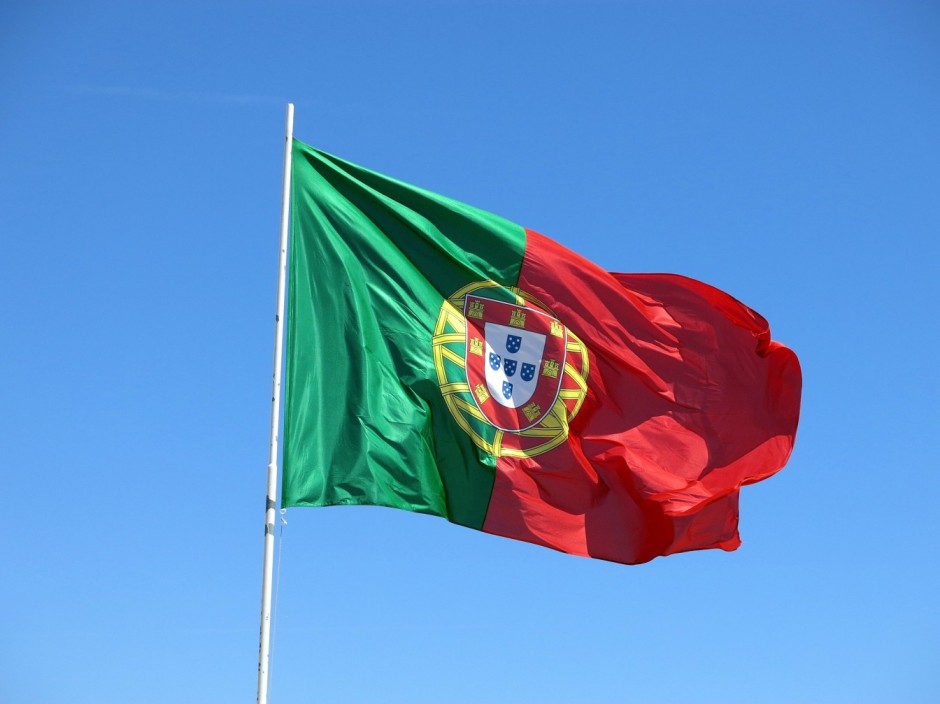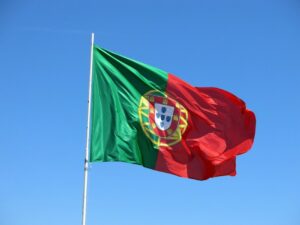 Americans who wish to retire in Portugal find that social security and outstanding healthcare are of particular significance. As a permanent resident, you also enjoy all the perks of other EU citizens: Freedom of movement, travel, work, and study, in any of the EU's member states. What's more, as a permanent resident, you can request a family reunification and bring your relatives to Portugal.
Can American expats in Portugal obtain Portuguese citizenship?
As both Portugal and the United States of America permit dual citizenship, you are able to become a Portuguese citizen without having to give up your US passport. Once you have lived in Portugal for five years, you can submit an application for citizenship. Similar to the permanent residency process, you will be required to demonstrate your proficiency in the Portuguese language.
As the application process for citizenship can be complicated, we highly recommend that you work with qualified experts, so there are no unnecessary issues with this. Our partners, Global Citizen Solutions, can assist you with this if required, plus guide you on visa options to relocate to Portugal.
Accommodation for Americans in Portugal
The first thing to do is to ensure you have somewhere to stay when you come to live in Portugal. The next question will be whether your new home will be temporary or long-term.
Should you rent or should you buy?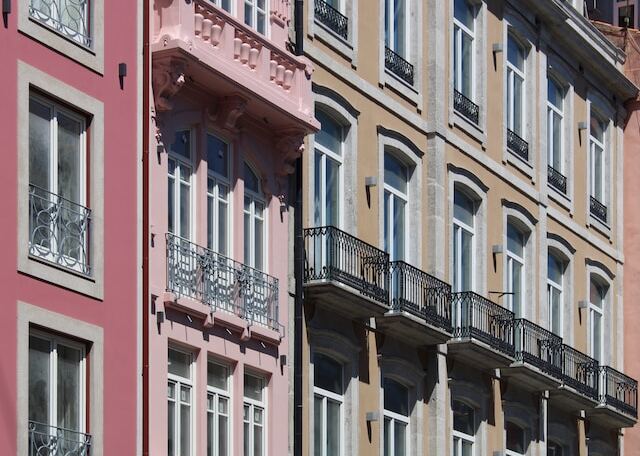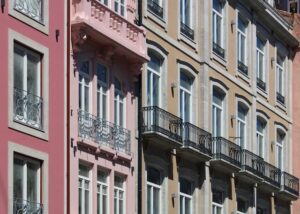 Whether you should rent or buy depends on your personal preferences, and both options have advantages and drawbacks. Renting allows for more flexibility whilst you settle and decide whether you would like to live permanently in the city, town, or neighborhood. You also won't have to worry about maintenance issues of the house or the apartment as, unlike in the US, those costs are covered by landlords, not tenants.
Buying is not only an investment but a great first step to permanent residency, plus you're making an investment for the future. Although maintenance costs and upkeep of the property are your liability, overall, buying real estate in Portugal is a safe and straightforward option.
If you have decided that buying is the right option for you, but you're not proficient in Portuguese yet, then we'd strongly advise that you get help and guidance from real estate experts. We'd also recommend that you get independent legal advice in both your home country and Portugal.
Our partner, Goldcrest, is at hand to help to make sure that the process runs as smoothly as possible. They're your one-stop shop for all things real estate, from finding the right property for you and helping you through the buying process to finally signing the papers and getting the keys to your new home.
How can get we help you?
Get NIF Portugal is your one-stop shop for getting set up in Portugal. Getting started in a new country can be daunting, and you can expect a lot of paperwork during the immigration process to Portugal. With our extensive experience, we can make this process easier and less time-consuming for you.
Two of the first things you will need to apply for and get are your Portuguese tax number (NIF) and a bank account. Without those, you won't be able to make any kind of business transaction. With our help, you won't have to worry and can rest assured that we'll take care of everything.
You can get a NIF number and open a bank account in Portugal from the comfort of your own home before you make the move overseas. This puts you one step ahead and makes the whole process easier, especially since you have dealt with the two most important steps in the relocation process.
Get in contact
For an initial consultation, please contact us, and we will then arrange the next steps towards your journey to sunny Portugal.
What does Portugal have to offer to American expats?
Portugal has a lot to offer; hence it is one of the most popular countries for expats from all over the world. In the following section, we look at some of the highlights, but the list doesn't end there: Portugal is a treasure trove for people from all walks of life.
Cost of living in Portugal versus the US
Portugal's cost of living has increased in line with the rest of the world, but in comparison to most other European countries and many developed countries in the world, it is a very affordable place to live. The cost of city life in Portugal compared to that in the US is very reasonable.
For example, living in Lisbon, including rent, is on average 56.3* percent cheaper than living in New York City (NYC), and rent prices alone are 65.1* percent lower in Lisbon than in NYC. If you're keen on eating out, then you'll be pleased to know that restaurant prices in Lisbon are around 50 percent* cheaper, and prices for groceries cost 58.7* percent less in Portugal's capital city.
*Price comparison from Numbeo, as of March 2023
In monetary terms, this means that, on average, the living costs for two adult people in Lisbon, including rent, will be around  $2,500 (€2,356). Outside of Lisbon, this will be even cheaper, costing around  $2,000 (€1,885) per month. It's important to note that those living costs depend on the lifestyle of individual people, and prices in towns and cities may vary.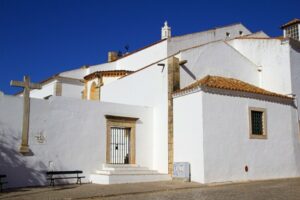 Portugal's north and its rural areas are surprisingly affordable and should not be overlooked when hunting for properties. You can find some exceptional real estate here for great prices.
Real estate and rent
Renting in Portugal is much cheaper than in the US, and rental prices are lower than in many major cities in North America. The monthly rent for a one-bedroom apartment in Lisbon city center is between $900 (€850) and $1905 (€1,800), but rent is cheaper if you live in a property outside the center, from around $635 (€600) to $1,164 (€1,100).
Prices outside Lisbon and in other Portuguese cities are lower, making Portugal an attractive place to rent property, especially if you want to take some time to find your perfect home to buy.
Once you're ready to buy, you'll be pleased to know that, for the most part,  real estate prices in Portuguese cities are also much more reasonable than in cities in America. To buy property in Lisbon, you can expect to pay, on average, around $6,139 (€5,794) per square meter, but you'll pay less outside the city center, on average, $3,265 (€3,082) per square meter.
You will find even cheaper properties, depending on the location and their need for renovation. For further information, contact our real estate partner Goldcrest for more information and some guidance on finding the perfect property for you.
Food and drink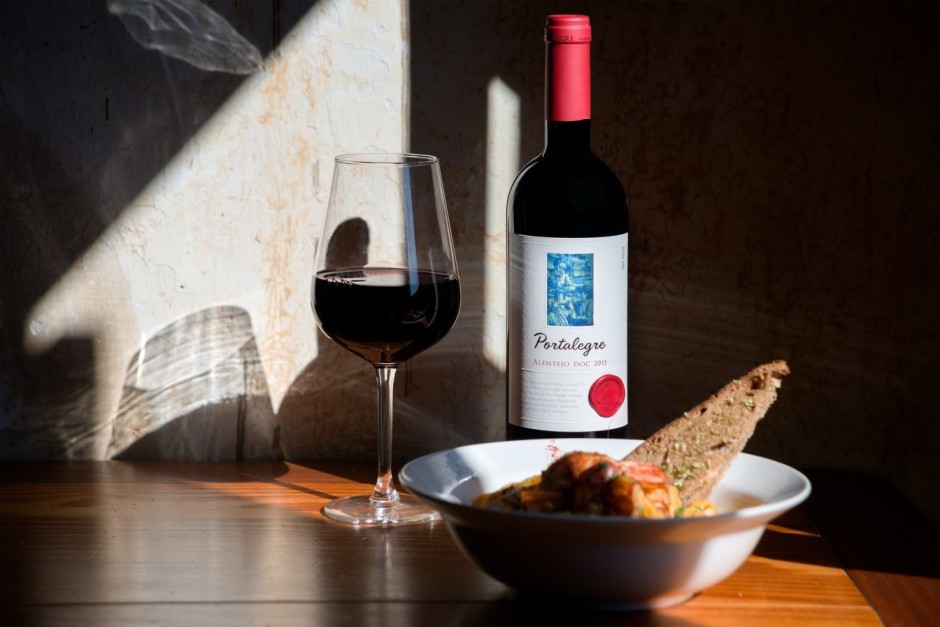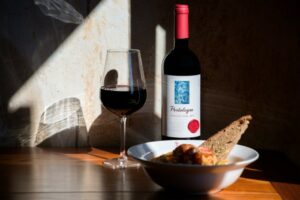 Eating out in Portugal is, in comparison to the US, a lot more affordable. For a meal in an inexpensive restaurant, expect to pay between $6.37 (€6) and $15.93 (€15) per person, and a meal at a mid-range restaurant costs between $31.86 (€30) and $87.09 (€82) for two people.
Drink are equally cheaper than in big American cities, and you can expect to pay between $1.59 (€1.50) and $4.24 (€4) per 0.5 liters of beer and between $0.95 (€0.90) and $3.39 (€3.20) for a cappuccino. The same goes for groceries and household items. Portugal is not only a great place for fresh produce, and you will find some fantastic food at local markets, but it's also much cheaper compared to prices for fresh food in the USA.
The table below gives a quick overview of the prices of some basic food items and toiletries in the city of Lisbon:
*The above costs are from Numbeo and Expatistan as of March 2023
Portuguese cities
Portuguese cities may be a lot smaller than American cities, but that doesn't mean that they are less vibrant and that there isn't as much to do. Like US cities, Portugal's cities are bustling hubs full of life, and there is always something going on.
Below are the costs of various items and services that you may want to consider as an expat:
| | | |
| --- | --- | --- |
| | | |
| | | |
| Utilities for an 85 ㎡ (per month) | | |
| Pre-school (per child/ month) | | |
| International primary school (per child/ year) | | |
| One-bedroom apartment in the city center (monthly rent) | | |
| Three-bedroom apartment in the city center (monthly rent) | | |
| One-bedroom apartment outside city center (monthly rent) | | |
| Three-bedroom apartment outside city center (monthly rent) | | |
*The above costs are from Numbeo as of March 2023
Healthcare
Portugal's public and private healthcare systems are amongst some of the best in the world. Americans relocating to Portugal will find that the Portuguese healthcare system is one of the most appealing benefits, as healthcare and health insurance in the US is very expensive. Americans retiring in Portugal find this one of the most attractive benefits.
After your move to Portugal, as a legal resident, you will have access to Portugal's public health service, which is free or low cost. It's worth noting, though, that dental care and plastic surgeries are not included in this service.
Many expats initially opt for private health insurance, which is, in comparison to other countries, very affordable and gives you exclusive access to Portugal's exceptional private health service. Prices vary depending on a person's age, previous health conditions, and general needs, but you can expect to pay between $425 (€400) and $1,170 (€1,100) per person per year.
The job market
Portugal's job market is thriving and competitive, reflecting the growth of the country. The rise of tech companies and start-ups has made Portugal, particularly Lisbon, Porto, Braga, and parts of the Algarve, an attractive destination for IT specialists and professionals. If you have expertise in this area, then Portugal is an excellent place for you professionally.
For other job sectors, you may need to speak Portuguese to some level of fluency, but if you're a digital nomad or find work in the tourism sector, you'll have no issues working or finding work in Portugal. Social security contributions are mandatory for all workers and are taxed at 11 percent of their income.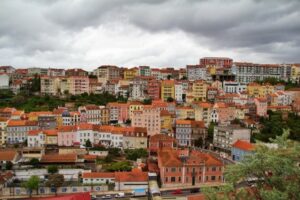 This contribution gives access to various benefits for Portuguese residents and Portuguese citizens, including:
Maternity and paternity benefits (mothers get a minimum of 120 days fully paid maternal leave after the birth of their child)
Unemployment benefits
Disease and sickness benefits
Disability and invalidity benefits
Work injuries and other health condition benefits
Old age pension
Death benefits
Minimum wage and average salary
Portugal's average salary depends on the individual's qualifications, experience and the sector they work in. Generally speaking, the average salary for a Portuguese employee or worker is around $1,269, but for employees in Lisbon, this can go up to $3,755 per month. Salaries are higher in cities and high-density areas but lower in smaller towns and low-density areas.
Portugal's minimum wage is $808 (€760) per month as of 2023, which is not subject to taxation.
Education
Expats looking to relocate with children will be pleased to know that Portugal's education system is excellent and that there are both public and international schools available to choose from. Portugal's public schools offer free education and your children can attend and follow a high-standard and comprehensive curriculum.
Those families who'd prefer their children to attend an international school in either English or their native tongue will be able to find an abundance of private schools. Annual school fees per child will vary depending on the school and the child's age, but you can expect to pay between $5,320 (€5,000) and $20,431 (€19,200). The older the child and the higher the education, the more you can expect to pay per year.
The climate in Portugal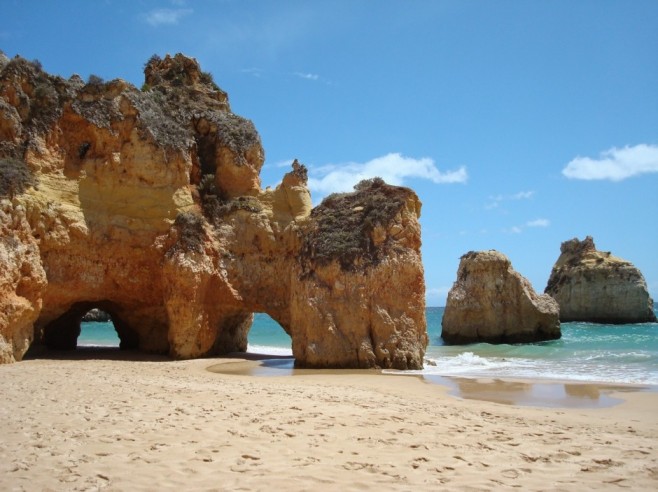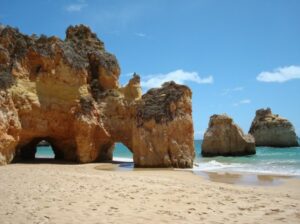 Portugal has a Mediterranean climate with mild, wet winters and hot, dry summers. The country is located on the western coast of the Iberian Peninsula, which means it's under the influence of the Atlantic Ocean.
Portugal's north and its mountainous areas get more rainfall than the southern regions, but Portugal has over 300 sunny days per year, making it a popular country with expats.
In the summer, temperatures can reach over 104 degrees F (40 degrees C) in some parts of the country, particularly in the interior regions. However, Portugal has also been affected by climate change, experiencing more frequent and severe heatwaves, droughts, and wildfires in recent years.
Americans Retiring in Portugal
If you want to retire in Portugal as an American expat, there are a few things to think about before you make the move. Be clear on what you want from your retirement in a country that is, in many ways, very different from your home country.
Portugal is a fantastic country with many different opportunities and things to do, no matter your interests and preferences. Whether you want to be in a bustling city, lively seaside town, or prefer a quieter and more rural life, Portugal has it all.
In addition to this, expect the following benefits when you retire in Portugal as a US expat:
Life in a safe and tolerant country
Political stability
Excellent and affordable healthcare
Lower costs but high quality of living
Favorable tax breaks for expats
Possibility to become an EU citizen
Mediterranean climate
Best Cities to Live in Portugal
As mentioned above, Portugal's cities are smaller than in North America, but by no means are they any less vibrant or offer less entertainment. Below are some of the best Portuguese cities, but the list is not exhaustive:
Lisbon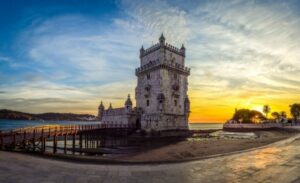 Lisbon is a popular destination for expats looking for a Mediterranean and laid-back lifestyle with a lower cost of living than other European capital cities. The city is known for its lively atmosphere, friendly people, and rich culture. Expats can enjoy various activities, from exploring historic neighborhoods to trying delicious Portuguese cuisine in local restaurants.
The city also offers a good public transport system, making it easy to navigate around the city. While the language barrier can be challenging for some, many locals speak English, and expats can easily join local expat groups and communities to make new friends and connections.
Porto
A little less busy but by no means less vibrant is Porto, Portugal's second-largest city. With a rich cultural heritage and relaxed lifestyle, Porto is also famous for its Port wine, historical landmarks, and stunning architecture. There is always something to do for expats, and you'll never get bored.
You can enjoy a variety of activities, such as visiting museums, strolling along the river Douro, and trying local cuisine in the local restaurants. Porto is also known for its lively nightlife, with plenty of bars and clubs to explore. Expats can find affordable housing options in Porto, with many apartments available for rent.
Braga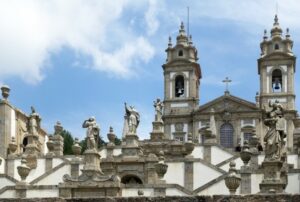 One of Portugal's most charming and beautiful cities, Braga, is located in the north of Portugal.
Braga is rich in history, with picturesque architecture and stunning natural landscapes.
It's a popular destination for expats looking for a quieter lifestyle than bigger cities like Lisbon or Porto.
Braga also has a vibrant cultural scene, with regular festivals and events throughout the year.
Madeira
As an autonomous region of Portugal located across four islands in the Atlantic Ocean, Madeira is a popular destination for expats seeking a relaxed island lifestyle. The main island is known for its subtropical climate, stunning landscapes, and diverse flora and fauna.
Expats can enjoy a variety of outdoor activities, such as hiking, surfing, and swimming in crystal-clear waters. The island also has a rich cultural heritage, with numerous festivals and events celebrated throughout the year. Expats can find affordable housing options, with many apartments and villas available for rent. 
Coimbra
Coimbra is a charming city in central Portugal and is known particularly for its historic university, beautiful architecture, and rich cultural heritage. It is a popular destination for expats seeking a more traditional and authentic Portuguese lifestyle.
You can explore the city's narrow streets and alleys, visit the numerous museums and galleries, and try the local cuisine in the many restaurants and cafes. Coimbra also has a lively cultural scene, with regular festivals and events throughout the year, making it one of the best cities for expats to relocate to.
Portimão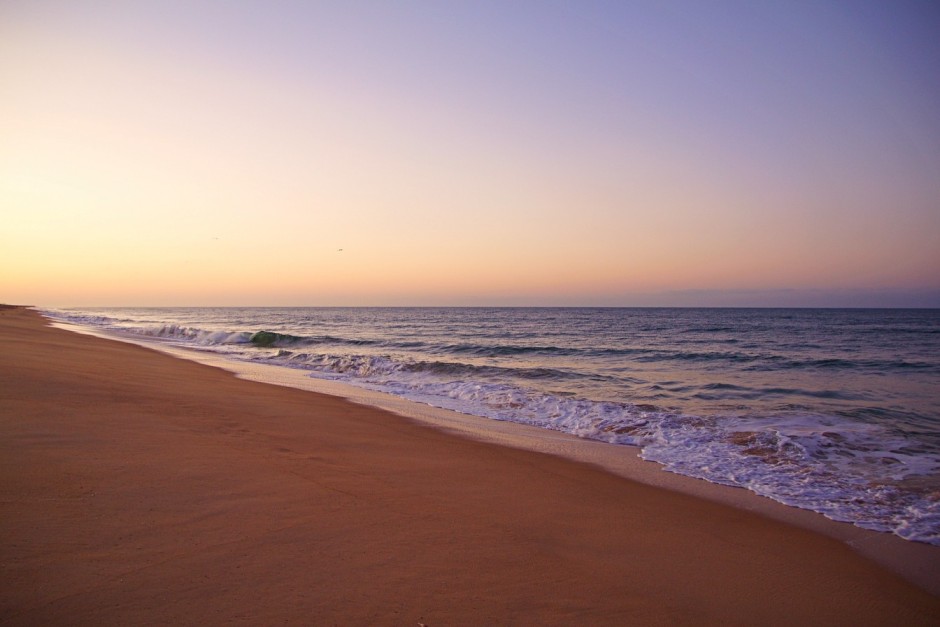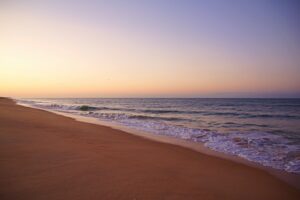 This is one of the most popular coastal cities in the Algarve region of Portugal's south, known for its stunning beaches, vibrant nightlife, and relaxed lifestyle. It's perfect for those seeking a warm and sunny environment with plenty of outdoor activities.
There is lots to do: swimming, sunbathing, and water sports at the many beaches in the area, as well as exploring the picturesque city center and trying local cuisine in the numerous restaurants and cafes.
Portimão also has a lively nightlife, with plenty of bars and clubs to choose from.
Opening a Bank Account in Portugal as a US Citizen
This is, of course, a necessity for any expat, and opening a bank account is generally an easy and straightforward undertaking. However, the most important thing you need before you do anything else in Portugal is to get your Número de Identificação Fiscal (NIF) or a tax number, which can be obtained at any local tax office in Portugal.
Once you have a NIF, you can select a bank that allows American citizens to open an account in Portugal. It should be noted that due to the strict regulations enforced by the IRS (Imposto sobre rendimento das pessoas singulares), who enforce personal income tax, in compliance with the Foreign Account Tax Compliance Act (FATCA), some banks may not accept US citizens as clients.
Therefore, it is recommended to do some research and inquire with different banks before selecting one to make sure there are no surprises when attempting to open a bank account in Portugal.
Related articles
You may find the following articles helpful, but please contact us for further information, and one of our experts will be happy to help.
Taxes for American Expats in Portugal
As an American expat living in Portugal, it's important to be aware that you have to do tax returns in both the United States and Portugal. Essentially, you are required to pay taxes on your American earnings in the US and your Portuguese earnings in Portugal.
This means that you must comply with both countries' tax laws and regulations, and failure to do so may result in penalties or other legal consequences.
Therefore, it is recommended to seek professional advice and support to ensure that you remain compliant with the tax obligations of both the United States and Portugal, ideally in your native tongue, if you're not fluent in Portuguese yet.
The Portugal Non-Habitual Residency (NHR) program, introduced by the Portuguese government in 2009, is a popular initiative aimed at attracting expats to Portugal. The program offers a range of tax benefits, which are particularly generous for a period of ten years.
Expats who are eligible for NHR status are exempt from most taxes on foreign-sourced income, including pensions, investments, capital gains, rental income, and employment income. You can find more information in our article NHR for Digital Nomads.
What do expats think of Portugal?
Expats from all walks of life, of any age and social background, have found that Portugal is one of the best expat countries in Europe, if not in the world. A multitude of reasons make Portugal a very attractive choice for US citizens, and it's easy to see why.
Blue skies and warm smiles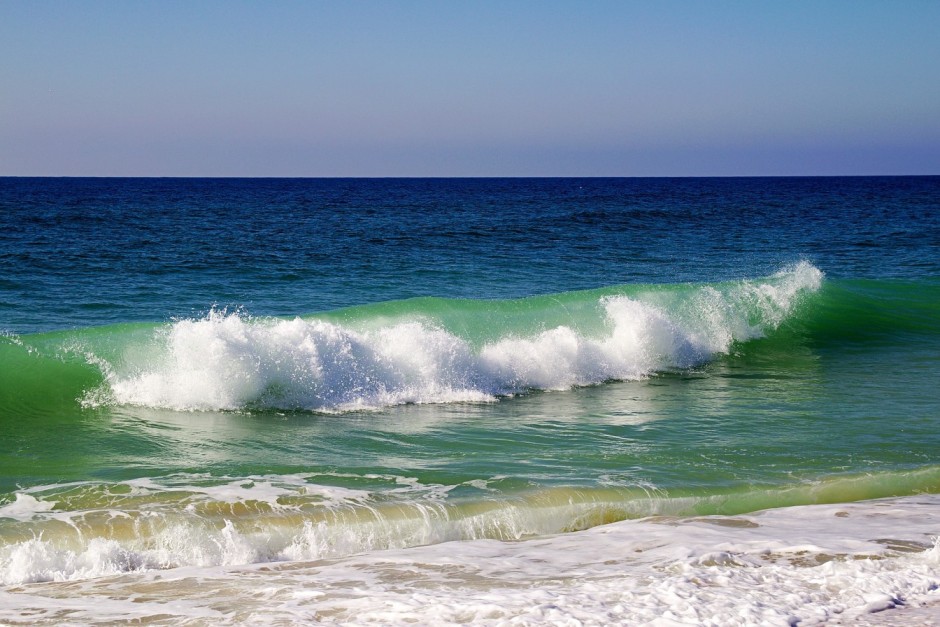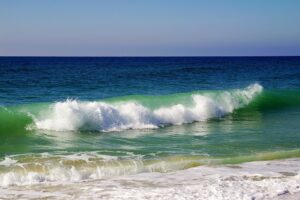 Portugal is known for its fabulous climate and friendly and welcoming locals. Expats can enjoy the sun all year round and benefit from hot summers, and bad weather is a rare occasion. Portugal is considered to be one of the safest and most tolerant cities and ranks at number six in the Global Peace Index 2022. In comparison, the USA ranked in the 129th position on the list.
Family-friendly fun
Portugal is an excellent country for families with children of all ages. Not only is it a safe and tolerant place where foreigners will feel at home, but its exceptional education system and affordable international private schools make it a perfect destination for expats with dependants.
What's more, it's great parental benefits and affordable healthcare system means that you and your loved ones are always looked after in every aspect of life.
Excellent work-life balance
The Portuguese know how to work hard but also acknowledge that there has to be a balance to living life. Thanks to its excellent weather, festivals, and emphasis on the high quality of life, expats will find that downtime is as important as going to work.
The Bottom Line of Moving to Portugal from the USA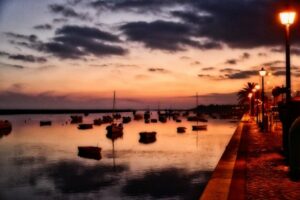 Moving to Portugal as an American expat may seem overwhelming at first, but it may just be the best thing you ever do. You are guaranteed a Mediterranean climate and plenty of days of sunshine per year, wholesome food and drink at affordable prices, excellent and affordable healthcare, as well as the warm welcome the locals and existing expat community offer.
Most importantly, expert help is always available, so you don't have to go it alone. Here at Get NIF Portugal, we ensure that the relocation process runs as smoothly as possible, so you can relax and rest assured that your best interests are always considered. To find out more, get in touch and book a non-binding call with us to get your new Portuguese life underway.
Frequently asked questions
How hard is it for an American to move to Portugal?
US citizens can easily move to Portugal as there are various options available for obtaining a Portuguese visa. This can be done through means such as work, marriage, heritage, or participation in one of Portugal's visa programs.
Can a US citizen immigrate to Portugal?
If you plan on staying in Portugal for more than three months as a US citizen, obtaining a residence permit is necessary. Fortunately, moving to Portugal is a relatively simple process for Americans.
Can I move to Portugal without a job?
Without a job, US citizens can still move to Portugal by using their passive income via the D7 Visa or by making an investment through the Golden Visa program. Please note that the Golden Visa program is ending soon, so apply as soon as possible.
How much money do you need to immigrate to Portugal?
This depends on your individual circumstances and which visa you will choose to relocate to Portugal with. If you choose the route by investment, this requires a minimum of €250,000 for the cultural production investment pathway (further reduced to €200,000 if in a low-density area). The Portugal Golden Visa program offers many different investment options, with the acquisition of real estate being the most commonly chosen route. 
Other visa options are also available, such as the D7 (passive income) visa, the digital nomad visa, or the D2 visa, for which you need a job offer.
Is an American driver's license valid in Portugal?
Driving in European countries for up to 90 days without any additional documents is allowed if you possess a valid license from your home state. However, if you intend to continue driving in Europe after spending more than 90 days there, you'll need to obtain an International Driver's License (IDL).
What are the cons of moving to Portugal from the USA?
Although Portugal is one of the best places to live in Europe, there are some downsides. It's advisable that you learn Portuguese, as English alone will not be enough to live a fully integrated life. Despite this, most Portuguese speak a very good level of English.
Portugal is also known for its bureaucracy and slower pace of life, meaning you'll have to learn to be patient. Salaries are also lower, but the labor market is picking up after the COVID-19 pandemic.
How long can a US citizen live in Portugal?
A US citizen can enter Portugal without a visa and stay for a maximum of 90 days. However, for an extended stay, obtaining a long-term visa or residence permit is necessary.
How many expats live in Portugal?
In 2022, the expat population in Portugal was estimated to be around 661,000 individuals, accounting for roughly 6.5 percent of the total population.
Where do most American expats live in Portugal?
American expats can be found anywhere in Portugal, but most American expats settle in Lisbon, Porto, and the Algarve region.
Do American expats need insurance in Portugal?
For expats in Portugal, private insurance plays a significant role in addition to the public healthcare system. Those who are ineligible for public healthcare services must obtain private insurance to pay for their medical expenses.
---