Back to Blog
NIF
Living In Portugal As An American
Updated: August 21, 2023 | Zahra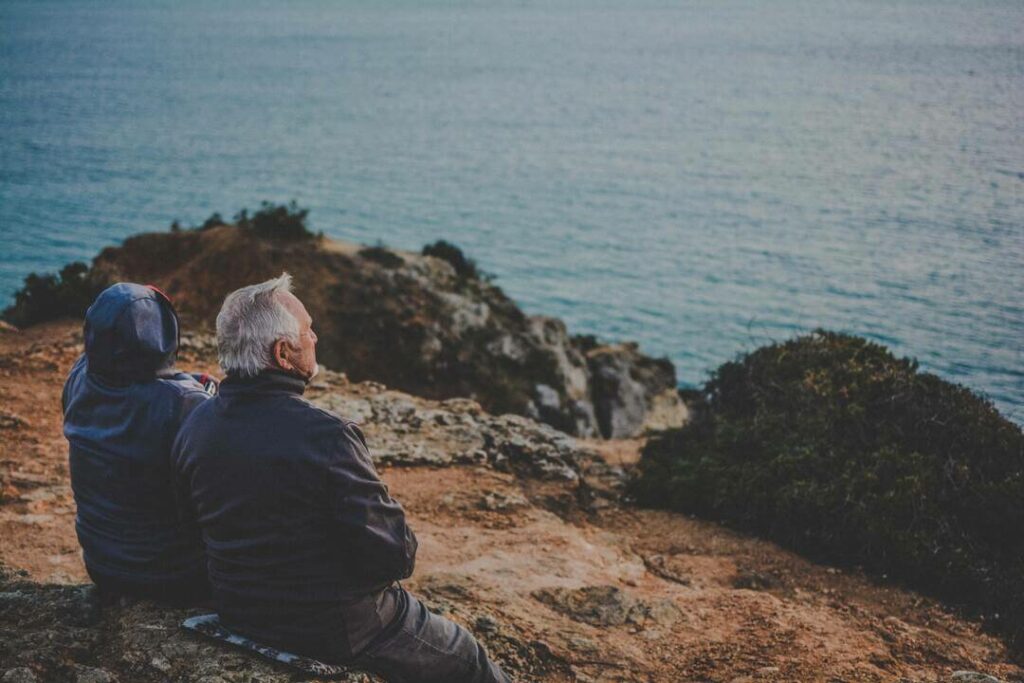 Portugal is a small country in southwestern Europe that has become increasingly popular among Americans in recent years. This beautiful country has attracted thousands of American expats looking for a new adventure and a lower cost of living. In fact, the number of Americans moving to Portugal is at its highest number in more than a decade. 
In this article, we'll explore why Americans are moving to Portugal, where they live, what life is like in this vibrant and diverse country, and why you should join the thousands living in Portugal as an American. 
Why are Americans moving to Portugal?
Portugal has been a popular tourist destination for many years, but in recent years, it has become an increasingly common destination for American expats looking to relocate overseas. 
There are several reasons why Americans are choosing Portugal as their new home, including:
An affordable cost of living

Friendly and welcoming people

A higher quality of life

A subsidized healthcare system

Plentiful Portuguese visas
Where can you find Americans living in Portugal?
Portugal is a small country, but it offers a wide range of living options for American expats. Here are some of the most popular Portuguese cities where Americans live in Portugal:
Lisbon 
Lisbon is Portugal's capital city and is one of the most popular destinations for American expats. This vibrant and cosmopolitan city offers a unique blend of traditional and modern architecture, a rich cultural scene, and a thriving economy. 
Lisbon offers modern co-working spaces, gigs, festivals, internationally renowned art galleries such as the MAAT, and easy access to beaches such as Carcavelos. Humberto Delgado Airport also offers direct flights to US airports such as Newark, Boston Airport, Chicago, Miami, and San Francisco. 
The city has a large expat community, with plenty of opportunities to meet other Americans. There are many neighborhoods where Americans can find affordable housing, keep in mind that Lisbon, however, is more expensive than other parts of the country.
Cascais 
Cascais is a beautiful coastal town just outside of Lisbon, and the Silver Coast, known for its picturesque villages, seafood, and stunning beaches. 
Cascais is just a forty-minute drive or train ride from the capital, making it an ideal destination to escape the hustle and bustle of city life while having easy access to all Lisbon offers.
Porto 
Porto is Portugal's second-largest city and one of the most vibrant cities in Europe. It's known for its historic center, Port wine, and stunning bridges. Porto is smaller and tends to be cheaper than Lisbon, but it still offers a city feel. 
This Portuguese city has a growing community of expats, including many Americans. While Porto traditionally attracted expats looking to retire in the city, its startup scene has successfully attracted a younger expat population.
The Algarve region
The Algarve region is in southern Portugal, and is known for its beautiful beaches, warm climate, and stunning golf courses. 
It's a popular destination for retirees, families, surfers, and other water sports and beach enthusiasts. There are several American expat communities throughout the region.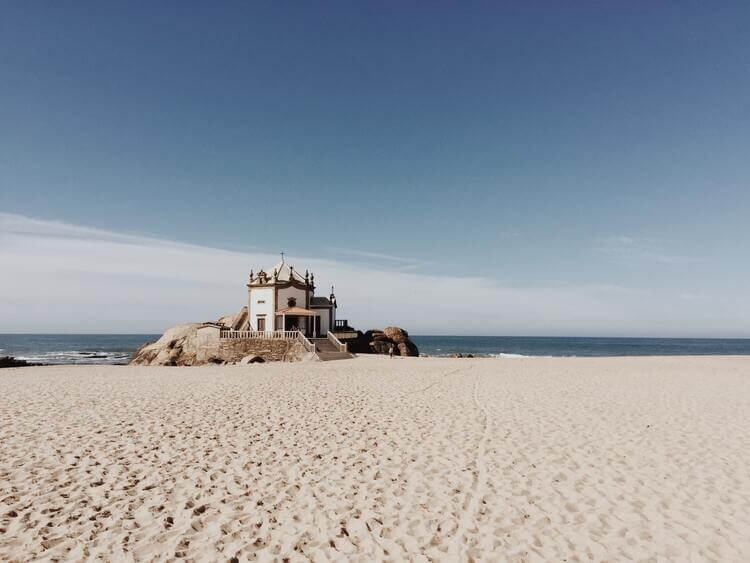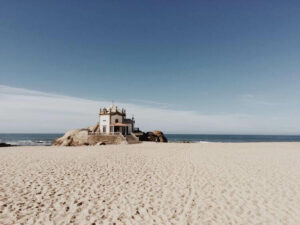 Why do Americans live in Portugal?
There are many reasons why Americans are moving to Portugal. Here are just a few:
Affordability 
Portugal is one of the most affordable countries in Western Europe, with a low living cost when compared to cities like New York or San Francisco. This means that you can enjoy a comfortable lifestyle without breaking the bank.
Friendly, welcoming people 
Portuguese people are known for being warm and welcoming to foreigners. This European country has a strong sense of community, and making friends and feeling at home is easy.
Good quality of life 
Portugal consistently ranks highly for quality of life, with excellent healthcare, education, and safety standards. In fact, Portugal comes 12th in the Global Citizen Solutions Quality of Life Index. Portugal's high quality of life is the number one reason expats give for moving there.
Rich cultural heritage
Portugal has a rich cultural heritage, with beautiful architecture, music, and cuisine. The country has a long history of exploration and discovery, reflected in its art and literature.
Ease of travel
Portugal is located in the heart of Europe, which makes it easy to travel to other destinations. Many American expats take advantage of Portugal's central location to explore other European cities on weekends and holidays.
A happy, healthy, and peaceful population 
Portugal is the sixth most peaceful country in the world. It also has an excellent subsided public healthcare system called the Serviço Nacional de Saúde or SNS. Portugal is ranked 22nd in the World Index of Healthcare Innovation 2022. 
The low crime rate and healthcare system have led to a healthy and peaceful population in the country.
Outdoor activities
Portugal has a beautiful natural landscape with mountains, beaches, and forests. This makes it an ideal destination for outdoor enthusiasts who enjoy hiking, surfing, or mountain biking.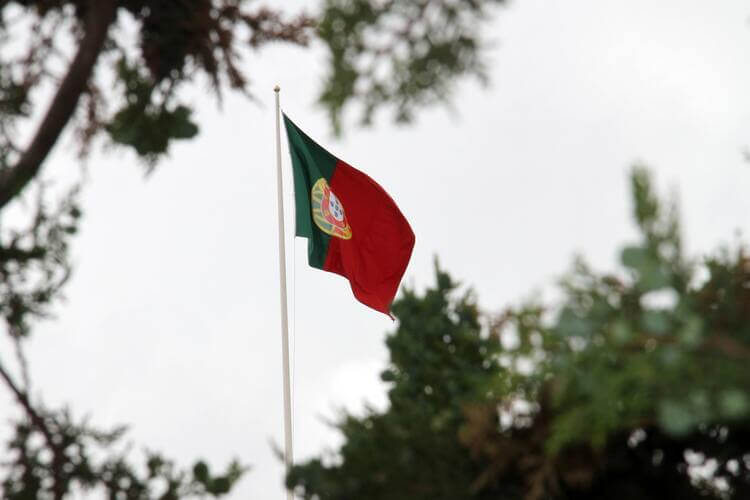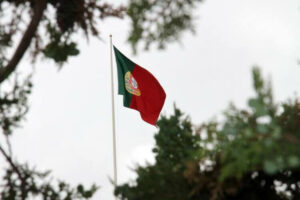 Cost of Living in Portugal
One of the biggest draws of Portugal for American expats is the low cost of living, compared to other European countries. While prices in Lisbon and other major cities can be higher, living in smaller towns and villages is very affordable. Here are more specifics on costs in Portugal:
Rental and property prices in Lisbon 
Lisbon is Portugal's capital city and a popular destination for expats. Rental prices in the city center can be high, but you can find more affordable options in the surrounding areas.
There is an average difference of over 100 percent between rent in Portugal and the United States, according to Numbeo's latest statistics.
Daily essentials and eating out 
Food and drink are generally affordable in Portugal, and you can enjoy a meal out for a fraction of the cost of dining in a major American city.
For example, a three-course meal for two people in a mid-range restaurant will set you back an average of €40 in Porto but €80 in Washington, DC. 
Transportation 
Public transportation is widely available and affordable in Portugal. You can also rent a car for a reasonable price if you want to explore more remote areas of the country.
A monthly pass for public transport costs around €40 in Portugal but around €66 in the US. Taxis are also over 89 percent more expensive in the States.

Practical Information on Moving to Portugal
If you're serious about moving to Portugal, there are a few practical steps you'll need to take:
Getting a NIF (Portuguese Tax Number) 
You'll need a NIF to work or open a bank account in Portugal. The NIF is essential for any financial transaction in Portugal – you need it to work in Portugal, pay taxes, sign a lease, or set up a contract with utilities or a mobile phone company.
The NIF is your taxpayer identification number and is one of the most important parts of the relocation process. We recommend getting one before you relocate to Portugal to make your move easier. Talk to us today; we can help you get your NIF online from the comfort of your home in America. 
Opening a Portuguese bank account 
Having a Portuguese bank account can make it easier to manage your finances and pay bills in the country. Opening a Portuguese bank account means you'll avoid paying fees on international transactions or transfers.
Many shops in both Lisbon and especially in other parts of the country only allow you to pay with a Portuguese bank card or cash, so having a Portuguese bank card can save Americans moving to Portugal a lot of hassle.

Talk to us today, and we can help you open a Portuguese bank account with a leading Portuguese bank from anywhere in the world.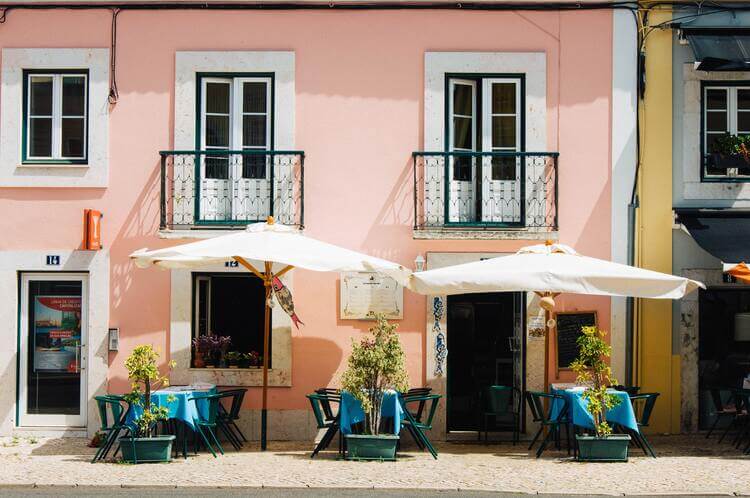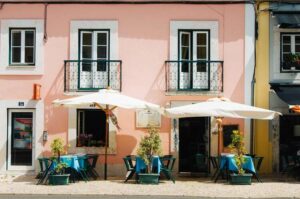 Taxes for American Expats in Portugal
As an American expat residing in Portugal, you'll still be required to file taxes with the Portuguese tax authorities, known colloquially as Finanças. You might be eligible for Non-Habitual Tax Residency (NHR), a tax scheme for foreigners moving to Portugal that grants generous tax breaks for up to ten years.
Tax representation 
If you're an American citizen that is not a European Union/European Economic Area/Swiss national, you're required by law to have a fiscal representative. Your fiscal representative can be any Portuguese resident.
Your tax representative will assist you in obtaining a NIF and serve as a point of contact between you and the Portuguese tax authorities. We recommend hiring a lawyer or accountant to be your fiscal representative, as they should have an in-depth knowledge of Portuguese tax law. 
At GetNifPortugal, we offer fiscal representation services, including applying for a NIF on your behalf. 
Non-Habitual Tax residency
NHR status can apply for ten years, allowing tax exemptions on foreign-based income such as pensions and investments. 
To avail of the NHR tax regime, you must:
Have the right to live in Portugal, either as an EU/EEA citizen or through your visa

Not have been a tax resident of Portugal in the five years before you relocated to Portugal
Under NHR status, you do not have to pay taxes on your worldwide income. Any income earned in Portugal is taxed at a flat rate of 20 percent. 
Americans Retiring in Portugal
Portugal is becoming an increasingly popular destination for American retirees. The country offers a high quality of life, affordable living, and a warm climate. Here are some things to keep in mind if you're considering retiring in Portugal:
Portuguese Visas

D7 Visa
If you're retired and not planning to work in Portugal, you may be eligible for a D7 Visa. This Portuguese visa is designed for individuals with sufficient passive income to support themselves, and the D7 Visa is also known as the Passive Income Visa. Pensions are considered passive income for the purposes of the D7 Visa.

The D7 Visa offers a residence permit that can be renewed. After five years, you are eligible for Portuguese residency or a Portuguese passport.
Golden Visa Program
You can also apply for a Golden Visa, which offers residency in Portugal in exchange for a significant investment in the country. However, note that the Portugal Golden Visa may be ending soon – so if it's something you're interested in, we'd recommend applying immediately.
Both the D7 and Golden Visa grant temporary residence permits, which you have the option to extend every two years after your first year in Portugal. After five years, you can apply for Portuguese nationality, and a permanent residence permit. You even have the option of applying for Portuguese citizenship and becoming a Portuguese citizen, hence an EU citizen.
If you're interested in the D7 Visa or the Portugal Golden Visa program, contact your local Portuguese Consulate or Portuguese Embassy.
Healthcare
Portugal has a public healthcare system that is available to all residents. As a retiree, you may be eligible for free or discounted healthcare through the Portuguese healthcare system.
Portuguese citizens who pay into the social security system and other nationals who pay tax to the Portuguese government can avail of low-cost or free public healthcare. You also have the option to pay for private health insurance, as Portugal has a hybrid healthcare system.
American Families Moving to Portugal
If you're an American family considering a move to Portugal, there are several things to keep in mind. Here are a few key considerations:
Childcare
Portugal strongly emphasizes family, and several childcare options are available to families with young children. These include daycare centers, nannies, and au pairs.
Portuguese is Portugal's official language, but many people in urban areas speak English. However, learning some basics of the  Portuguese language before you move is still a good idea.
American international schools in Portugal 
Portugal has several international schools that cater to English-speaking expats. These schools offer a curriculum similar to what you would find in the US or UK. 
Some popular international schools in Portugal include the Carlucci American International School of Lisbon and Oeiras International School.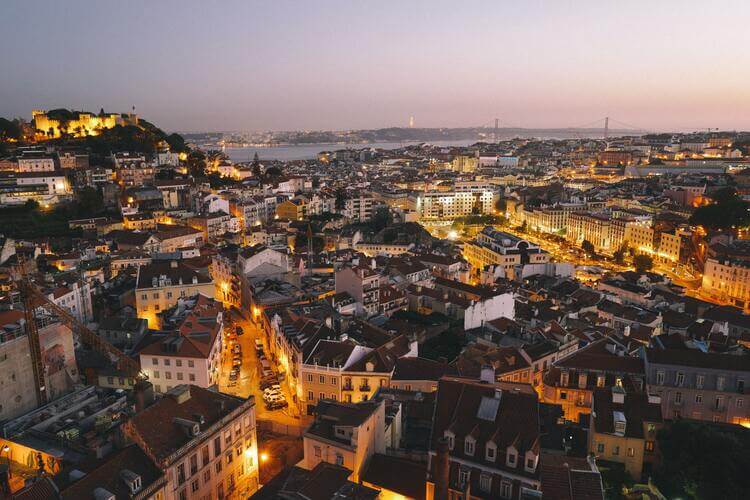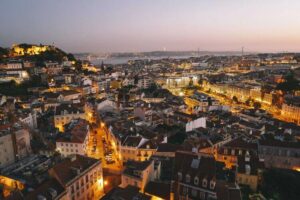 Portugal Visa Types for Americans
There are several visa options available to Americans who want to live in Portugal. Here are a few of the most common:
Portuguese Golden Visa program
The Golden Visa offers residency in Portugal in exchange for a significant investment in the country, in order to attract foreign investors to the country. You can invest in real estate, create jobs, or make a capital transfer.
Note that the Portuguese Government has announced the Golden Visa program is ending, so we'd recommend applying as soon as possible to avail of the residency-by-investment program. 
Portugal D7 Visa 
This Portuguese visa is designed for retirees and non-working individuals with sufficient passive income to support themselves. The D7 Visa is a route to permanent residency and EU citizenship. 
Digital Nomad Visa
Portugal introduced a new Digital Nomad Visa in 2022, which allows remote workers to live and work in Portugal for up to a year, with the option of extending their stay.

Check out our article, Digital Nomads Portugal, to read our comprehensive guide on working as a digital nomad in Portugal.
Work Visas
Check out our comprehensive article on Portugal's Work Visas to see what visa is best for you. If you're considering finding work in Portugal, read our article: Finding Jobs in Portugal.
Contact your local Portuguese Embassy or Consulate to begin the application process. Note that you need health insurance, a valid photo ID, and enough money to support yourself and any dependents for every visa.
The American Embassy in Portugal
The US Embassy in Portugal is located in Lisbon. The embassy provides consular services to US citizens living in Portugal, including passport renewal, notary services, and emergency assistance.
How can I move to Portugal?
Moving to Portugal can be a complicated process, but there are several steps you can take to make it easier. Here are a few tips:
Research visas
Depending on your situation, you may need a visa to live and work in Portugal. Research the different visa options available and start the application process early.
Find housing
Before you move, research housing options in your preferred city or region. You can find listings on websites like Idealista or OLX.
Get a NIF
To open a bank account or sign a lease, you'll need a Portuguese tax number (NIF). You can get a NIF at a tax office in Portugal or through our website. 
To make a long story short
In conclusion, for Americans seeking to live abroad, Portugal offers an attractive destination that provides not only a relaxed and laid-back lifestyle but also tax benefits for retirees and investors.
As an EU member state, Portugal allows American citizens to apply for permanent residence and, in due course, even dual citizenship.
Moreover, the country's warm climate, affordable living costs, and diverse cultural offerings make it a popular destination for Americans who want to explore new cultures and enjoy a higher quality of life.
With Portugal's welcoming attitude towards expats, its rich history, and its vibrant Portuguese culture, it is no wonder why more and more Americans are choosing to make Portugal their new home.
---